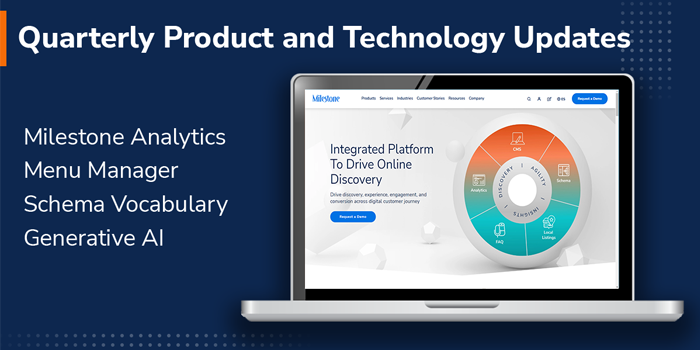 Milestone Inc, a premiere MarTech software and solutions brand, is announcing a series of technology updates and integrations. Milestone offers a suite of MarTech products, including the proprietary best-in-class, SEO-first CMS platform technology. Additionally, clients benefit from Local, Schema, and FAQ Management solutions as well as Analytics & Business Insights that power search engine optimization for B2C and B2B businesses. Milestone Inc is proud to announce the following technology updates and integrations:
Milestone Analytics: With Google Analytics 4 becoming the standard for website and app traffic analysis as Google sunsets Universal Analytics in July 2023, Milestone has completed over 500 successful migrations to help businesses prepare for the cookie-less future. These efforts allow clients to stay ahead of the curve by futureproofing them for the changes that GA4 is poised to bring. With Milestone Analytics, businesses can view granular website traffic data via a set of dynamic widgets to give users a comprehensive view of their online presence across locations and channels.
Milestone Menu Manager:
Milestone's Menu Managers offer businesses a scalable solution to manage menus on Google across business profiles. As every menu is optimized for search, it improves a business' relevance in search for its menu items. Thanks to Milestone Menu Manager, companies can add and publish menus across locations simultaneously, customize menus for select areas, add menu item attributes to drive relevance, reorganize their menus, and more.
Milestone Schema Validator: Milestone Schema Manager now supports Schema.org v15.0 vocabulary update. The latest version of Schema.org's shared vocabulary for structured data has several fixes and potential updates, including eCommerce additions via the pending section and other miscellaneous fixes. With the latest updates, Schema Manager's feature 'Drift' detects changes in vocabulary on pages and alerts users to update their webpage Schema.
Implementing Schema.org's Vocabulary 15 helps users create highly granular structured data for their pages, allowing search engines to quickly categorize pages for various rich results, improving visibility across SERPs (Search Engine Results Pages), and driving traffic to their website.
In addition to supporting the vocabulary update, Milestone Inc. has enhanced its Schema management capability with the launch of an easy-to-use tool to validate website Schema for all 800+ Schema types. The Milestone Schema Validator ensures that markup is error-free, making it a valuable tool for B2C and B2B businesses. https://schemavalidator.milestoneinternet.com/
Generative AI: With Generative AI taking center stage in technology over the last few months, Milestone Inc. has announced integrations that leverage generative AI to drive the visibility of businesses on search and improve a business' speed to market. From using AI/ML to automate key SEO requirements within their CMS platform to the generation of FAQs using URLs or search terms, auto-population of Schema for pages with similar content and DOM structures, and AI/ML trained chatbot for customer support, Milestone's products have adopted AI to make processes seamless and efficient for businesses to meet their visibility and speed to market goals.
According to Ritika Chugh, Sr. Director of Products, Milestone Inc., "Our innovation focus is a testament to our commitment to providing our clients with the most comprehensive platform suite that allows them to improve their overall digital presence and reach. With these new investments in Analytics, Menu Manager, Schema Validator, and Generative AI, we bring our best-in-class products and services to customers worldwide."
"With the launch of the Milestone Schema Manager and Validation tool and by adding AI-driven capabilities, we continue to push the boundaries of what is possible in digital marketing. Our goal is to help businesses achieve their desired outcomes in the most efficient and effective way possible," said Sathya Krishnamurthy, CPO of Milestone Inc.
About Milestone Inc.
Milestone drives online discovery and customer acquisition with our digital presence platform and performance marketing services. Over 2,000 companies in Hospitality, Retail, Financial Services, and Automotive industries use Milestone to drive online growth. Customers include global hospitality, banking, retail, and automotive brands, including Marriott, US Bank, One Nevada Credit Union, VMWare, Nissan, Motel6, Preferred Hotels, Sun Outdoors, mid-market companies, and SMBs.
Milestone platform provides client solutions via Website CMS, Schema Manager, Local listings, Reviews Management, FAQ Manager, and Analytics. In addition, Milestone offers Performance Marketing Services for Content, Design, SEO, Paid Marketing, and Analytics to our clients. Annually, over 300 million visitors use websites developed on Milestone CMS, 540 million consumers click on content powered by Milestone Schemas, and 3.7 billion consumers search for businesses powered by Milestone Local. The Milestone platform is amongst the highest-rated MarTech platforms recognized by Forrester and awarded by G2, Adrian Awards, US Search Awards, Search Engine Land, CMS Wire, and others. If you wish to learn more about Milestone, book a demo at https://www.milestoneinternet.com/
Gaurav Varma
Director of Product Marketing
+1 408 200 6949